Utk sentapan kala petang sblm masuk meeting...tee-hee
Party was great! Gud job & excellent!
Bravo to my SIL-Ein who doing this as a part time job in JB's.
Party accessories..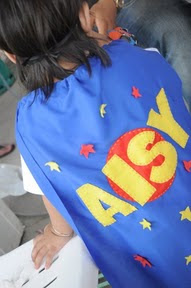 Superhero of the day...Aisy Nadeem who turn 2 on 4th Feb ...
Cake & cc from ovencomel (dot) blogspot (dot) com
Superheroes family..super dad!, super mom!, super girl!, super hero!, & super baby!..
Last session after the party end...harus le sesi posing gediks santai kan...
Last but not least...moi with 'party planner' & helper of the day! Phewwwww
Ps: frm my eyes..but tembak guna my SIL punya..hihi sama tp x serupa sbb lupa hangkut senjata! Hihhi
- Posted using BlogPress from my iPad