Smlm ade game kat @ampang superbowl Metropint kajang..1 st time jgk dtg sini..sib baik ade gps kan..mmg senang bangat le ikut..hihii
Actually nih kira inhouse game le..kira 4 penjuru means ..4 jabatan berentap like friendly gitu..setiap jabatan diwakilkan oleh 5 pasukan..setiap pasukan plak ade trio (2 lelaki,1 perempuan).. Hamek!
Seperti biasa kalo tournament gini die panggil 1 day event la..skali jln abis...main 3 game utk setiap sorang..so hadiah adelah mengikut kategori berpasukan -trio, individu & keseluruhan..
So end up...utk individu ladies ai champs = 1st place, (gambo atas) utk team-trio naib johan = 2nd place, dan overall jab = 3rd place...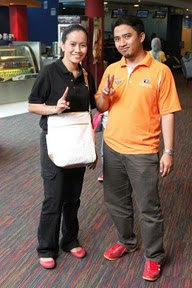 Nih with the MC cum Mr.O ..jgk champs utk kategori lelaki...syabasss dik! (dah katanya homeground kan! Hahaa) hahh dah lengkap gitu one day event...dpt 1, 2, 3.... Bravoooo!
- Posted using BlogPress from my iPad