Apalg..skang nih kan mmg tgh shiokkk melayan check-in sana check in sini dgn foursquare! Apps suke2 like sblm nih pernah citer kan...
So slalu tuh check in just notify la kita kat mana..tp this time ade special adds...
Ai check-in mana lg kalo bkn mall yg faling dekats ngn off...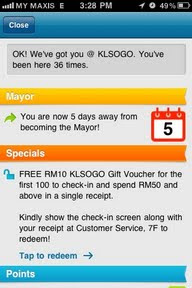 Hehe.. So bila check in die kuar msg & suh tap to redeem...
Nah bila unlock die kuar ler sgala mala instruction..bkn susah pun kan..bila dah check in pastu snap pict of it utk jdkan bukti then beli runcit pun dikira dgn min RM50...ure entitled to get RM10...hihi senang kan...
So offer nih terhad kepada 100customer yg check in guna foursquare & unlock the spc adds..tp stakat nih mcm x ramai je lg..ke xramai yg dwnload foursquare?? Ekek dah alang2 ai menyinggah & pasti belian akan jd min lima puloh hengget..makanya setiap selang shari le ai dpt the voucher! Yess, sbb xde syarat kata sorang dpt skali je...tp per day! So bila dtg check in je laa...Hahhaaa jgn mare ye spuloh hengget pun kira diskaun duit jgk kan & voucher valid until nxt yr! Yahoooo so sapa yg mmg menyinggah ke S*go tuh buat2 le check in ye..paling tidak leh le jgk korang redeem voucher sama...;)