Ok nih lanjutan xtvt org x sihat..ekek konon dah insap, tp gagah jgk nak giiiii..
Just nak review utk sapa2 yg x gi lagi tuh better go laa.. Esok masih ade!! Cepat!! Kalo ikut hati td mau sume gak ai hangkut..ekek tp bila boss ade sume kene screen tapis dulu ekek..
Kalo dulu time warehouse sale nih mmg ai dah pacak depan pintu.. Tp thn nih xpyh dah.. Even ai dtg kul 3pm tp stock gler byk + xyah rebut pun..cume 1/2 hat big2 tuh lah ade gak yg duk tanya2...
Xcukup ngn itu tempat pun agak selesa..sbbnya tau kenapa?.. Diorg siapkan jgk place for kids play kat tgh2 hall.. Jd mak/pak bleh membelek dgn tenang..ekek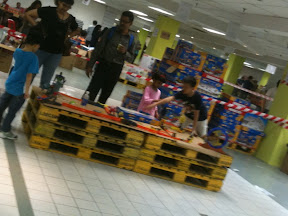 Main x semestinya beli kan..so mmg bebudak nih layan sbb ade guard jgk tlg tgk2 kan... & cnfirm diorg x berebut sbb ade 2 pot diorg sediakan..kida bleh main situ! Then jgk kalo tetiba kehausan membelek bleh aje benti minum....
Sbb di sediakan tempat minum ngn bg skali fresh fruit tree juice yg sedap! So mmg enjoy kan!
Lg satu harga toys pun much cheaper compared to lst yr.. Cth nya Mau x yg barbie fashionista nih kalo beli 1=rm25 tp kalo beli 2=rm45.. Murah kan?
Mmg stock byk laa.. Mau x rambang mata kan..ekekke itu baru utk girls..utk boys lg melambaks laa..sampai xtau nak pilih mana..set hotwheels tracks yg beso2 sume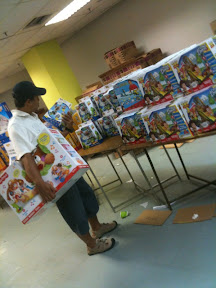 Contoh yg set rm80 mcm kat bwh nih...
Byk lg la..ade hotwheels yg lelong2 sume kira bundle.. Buy 2 get 1 laa....so diam x diam almost 2hrs jgk kat situ hah amek ko dlm nak menghintai konon! Pirahhhhhh
So nilah hasil tangkapan utk thn nih.. X byk mana pun cukuplah buat umpan & reward for the kis sbb baik duk daycare kan!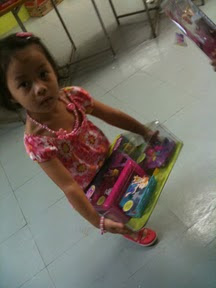 Lil sis with her choice-polly pocket set! And big sis with her barbie laaa barbie! Smpaikan sume die nak! Hukhuk last2 get yg pair ade pasang2 baju tuh! Puas hatiii! Girls always girl kan!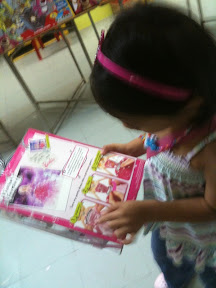 Dah2 jom balikkkkkkk!
So sapa yg x gi lg serbuuuuuu cepat!! Last day sunday!
- Posted using BlogPress from my iPad