Ok bila dah cuti x gi mana2 kan..maka xtvtnya haruslah tidur,makan, rest sehabis waktu + cover balik all the sleepless night!
Mmg mls nak kuar umah pun..but perut mustilah diisikan..jdnya ai pun jd rajin le mengasah skill..so menu lunch harus nasi ayam! Simple kan,..dah alang2 intai tgk jiran sblh pun ade je..jd uluq le brg sepinggan kan..
Dah org kata 'org berbudi kita berbahasa' x slh memberi...Siappp! Sup + cili ai boh dlm bekas transparent yg kecik tuh..senang later xyah susah2 pulang...
And yg ini utk hidangan org kat umah..hahaa mcm ade org lain pun kita 4vranak jer..hihi alhamdulillah licins..
So blah mlm layankan kids mintak bihun sup! Balance sup siang ade kan so tinggal nak rendan bihun je...lglah senang...Mmg terperanjat ai sbb 1/2 packet bihun abis 2 org bdk nih layan....hihi
Dah tuh en.somi plak mintak grgkan bihun je...+ ayam grg garing... senang jgk kan..asal brgnya ade...taraaaaa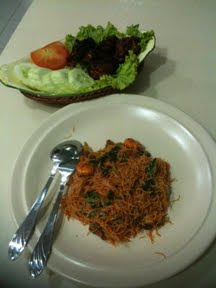 So mmg happy family lah sbb duk umah golek2 anak branak dgn perut yg kenyang! Jd hati pun senang!
Fyi mmg payah ah..ari cuti dpt duk rumah 1 ari..tambah plak nak masak 2 kali 1 ari..payahhh wooo..ehehe