Wokey nih dinner dept ai yg memula awal2 lg plan x moh gi...sbbnya on the date tuh jgk pak encik a.k.a en.somi pun ade event gak..so sian lah plak kat bebudak nak tinggal...tp bila pk2 balik & byk faktor lain yg menggalakkan maka ai pi lah jgk! Hihi + ditambah sbb never been there oso...jdnya pi je lah kan....hahaha
Tema mlm tuh haruslah nostalgia sbbnya dah buat kat saloma bistro...plan nak bersiap bagai lst minute nih mana nak dpt kan...jdnya sume sebat mana ade dr lemari cabukku..hihi so dss simple2 & make up/rerambut by yours trully..;p
Nih adelah door gift...polka dots lg u...dlmnya harus tanda ingatan ler kan..& coklat sbotol..;p table setting pun not so bad...mmg meaningful sungguh...mmg memberikan effect tema ala2 zmn dahulu kala...
Majlis bermula tepat jam 8mlm..pastu harus diresmikan oleh our CIO ler kan..tp die bleh le plak ngn off attire jerk..trus potong mood ai nak pose ngn die..ekek
Kali nih majlis diorganize oleh jwtnkosa kelab ler yg dah 2thn usianya....ai duk meje tetengah sbb nak gelak2.. So xmoh duk dedepan cam slalu...& nih 1st ai dtg ala2 feeling ayu xmoh buat keje apa...mmg dtg makan semata...hahaha sbb dolu2 dah penat buat kan..mmg kalo time event gini ai yg fenats...ekek so kasi can ai plak dtg utk mkn sajor! Hahahaa
Yg best nyer mmg this time oso x hangkut langsung camie...yg ade cume fon je..ekeke kejam kan..sbb skang dah byk felapis yg bleh amik gambo..so nih sume pict pun courtesy from them...hihi ai tumpang posing aje k!...
And this my table members..nmpak ke...sekuntum je bunga kat situ kan..hahah mcm sekuntum bunga rose utk hiasan 1 meja jgk! Hihihihi
Food not bad laa...mmg smpai kenyang perut...
Tp yg ai mkn hanyalah "char kuey teow" yg kebaboom sedaps...elke lain2 desert la...yg mknana jenis lauk pauk mmg x sentuh sbb sblm tuh dah sebat nasi lemaks mak ai kat uma! Hihiiihi
Majlis haruslah diserikan dgn nyanyian/ joget2 ala2 club dolu2 tuh kan sesambil mkn nih...yg nih bkn in house artist..diorg outsource ke sapa ai x tanya plak...
Ade duet & single singer gak...sora mmg power la esp yg pompuan tuh...kenal x korang? Die nih pernah msuk "jgn lupa lirik" yg menang brp ratus ribu tuh ntah...sora mmg sedaps!...
So die n her partner (nih *pf inhouse artist) yg meriuhkan majelis....sbb majelis bkn le budget ratusan ribu kan..so bleh lah lyn....
Tp incident yg mmg betul2 nostalgia & x vley lupa adalah dgn tetiba jerk bleh blackout...so kitorg mmg mkn dgn cadle ler...walhal sekeliling luar floor sume terang...ekke
Mmg sgt2 ler ala2 dolu2... Hahaha yg penting kita enjoy mkn2 chit chat2...Then continue dgn persembahan...mcm2 gaya & lagu laaa....
Ok nak selit sket..srang dr penari nih adelah moms to be ye ols...cer tgk perutnya...caya x? Tp dier jogets sgt cantik...abis 1 bdn lentok liuk..mmg enjoy! Unlike yg sorang tuh sbb muke dah le ketats...kaki tgn sume keras! Aiyakkk spoilt sikit tang situ....huhuuu
Tp overal performance oklah...enjoy jgk! Cer tgk gambo candid ai...
Hehehe nih mmg candid sbb ai x nmpak pun tau2 bila belek album kuar muke ai...hahahaha
Dinner harus ade mr & mrs utk pkaian yg mengikut tema kan...& goes to...
En.bos nih...nmpak cam biasa je kan..tp sbb die je yg pkai suar jeans bhgn bawah beso tuh...sbb tuh die menang...hihiii & mrs goes to...cik puan kak nih...hihii
Selebihnya harus le sesi2 posing2 atas stage kan..so siapa yg "kaki" mmg layans le..lain2 tuh mmg dtg mkn...kenyang balik....;p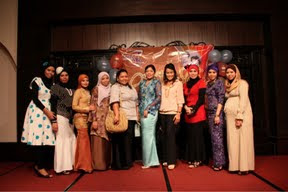 Ladies in the house....ade le yg singgle mingle lg dlm reramai nih...mommy to be, ade jgk yg sudah mak2 dara pun..hihii Nih yg mana rajin naik stage ler....so dpt le veramai2... ;p layan ler posing sesuke hati! Bila lg kan....layannnnnn!
And last but not lease....tuan punya belog...hihii ;) overall im enjoying my self chit chat, mkn2, gelak2 dgn kenkawan2 se department..;)
- Posted using BlogPress from my iPad