No big celebration...sbb slalunya kitorg ke pulau merehatkan diri...but this yr the trip will be end of month so kita out for dinner je dulu...hihi nak plak sbb date is actually on weekdays kan... & this is spontan place anyway!....Somehow tetiba tringat nak try this place..sbb dekat jgak ngn rumah...so kita guna mr.goog le utk arah lokasi...follow the instruction then sampai..
sedang org lain sibuk melayan #abpbh kat tv..kitorg lyn dinner & feeling like no body business pun there .kan...so layan..
Dah jd tebiat lak skang nih gi memana nak check in foursquare ler apa lg..& hari yg sama nih i'm being a mayor for 2 place!..hihi oklah sbnrnya nak share psl tempat nih...actually this new business area..terletak di Shah Alam..but bila smpai terkezutt jgk sbb tempat adlh sgt cozy...+ bila dah duduk then realize the sounds around us pun...fuhhhhh mmg tangkap jiwa laaaa sbb feeling like duk tepi beach gitu dgr bunyian air pancut seakan bunyi deruan ombak....ker perasaan jerk nih? Hahhh lantak..!
As usual kalo pi tempat x pernah pegi kesahnya harus le cheking around kan,termasuk le toilet nye ok..ekekke & kagum sbb toilet dah mcm hotel jgk kekdahnya...so llus pat nih..
Table setting oso not bad...nak plak cahaya yg suram dr sinar lampu...mmg romantika de amor le kan..hihi mmg sesuai le kwsn keliling nn nama tempat nih...laman..sbb ade laman ngn rumput karpet yg sgt hijau?.i looiikee!
Ok apa we order? Uk bshkan tekak sesambil hidup udara nyaman lg bersih wpn tgh bandar...dengan angin sepoii2.. Ai order manggo juice & DH order berries juice ke apa namanya nih....
Oppsss lupa lak..wpun nih dinner anniversary kan...tp us xler plak meninggalkan bebudak 2 org tuh..ekke sbb dah mmg bibikless..so kemana saja harud dibawa bersama...but diorg lg enjoy lyn fountain kat laman tuh..so bleh le mak pak die beromantika....hehehe
Ok kids ordered fries n mushroom soup...not bad..got taste! & presentation pun cantik! Hhi
sorry jgk sbb sume gambar jd suram sbb dah mmg cahaya sgt limited..ekeke kata nak feeling romantik kan..hah amek! Jgk sbb ai hanya gunakan camera fon aje nih...xbwk pun yg lain tuh..jnji ade..hihi Jgn mare ehh korang...sbb ai fening romantik gitu jd fon camie nih pun ikut sama sume jd like cahaya dr lilins gitu! ;p
Nih big sis tgh layan her mushroom soup...bila ade si kakak musti ade si adek kan..tp silalah jgn tanya sbb she's not in good mood sbb kaco tidonya...maka no pict with her!
So oklah biarkan die ngn dunianya & kita layan menu lah... yg nih DH punya part...kalo in real mmg lg berselera laaa...namanya SEAFOOD MEDLEY...
And me ordered rib eye steak....food overall mmg superb! Presentation pun mmg cuns arghhh buat terbuka selera....yummm yummmmm apa lg...bismillahhirrahmanirrahim...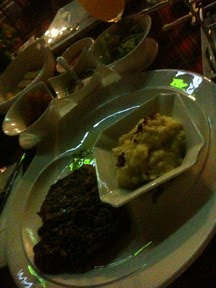 So nmpak x meja kitorg nih penuh..dah mmg jenis die pkai pinggan beso kan...but i loike!
And last but not least harus le ade deasert...choc ice cream...
With add ice lemon tea..Sbb kesedapan mkn smpai cam x cukp air plak nak cover..hihi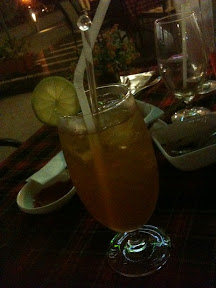 Alhamdulillah...kenyang...apalg balik lah kan..sbb perut kenyang hati pun senang! ;p dahhh jommmmm!.
Psst: tuh ralit sgt happy kemain ke apa buat ekk? Hihi btw he dah dpt advance anni gift tau frm me! ;)
So my bhgn plak.....jeng..jeng...jeng....ade ke ehh? *wink*
Ehhh ade le...This special bouq delivered @my off & make my day! I heart U darl! *Muahssss http://plixi.com/p/89394878 http://4sq.com/e1ybMQ
nothing much i need just his LOVE & Mudah2an jodoh kami berpanjangan hingga ke hujung nyawa & diberkatiNya...
- Posted using BlogPress from my iPad