This is our 1st time bwk kiddos naik bas...a week b4 the date tuh kitorg dah bwk kids awl2 lg amek feel how the bus looks like..& give them chances pilih mana bas diorg nak naik...hihi wAlhal mmg le ikut telunjuk mak pak diorg kan...kitorg bgtau le pro & cons kalo naik bus...
So hentian putra we go...dari umah kita calling teksi...nak plak jln bleh jemmm x hengat mlm tuh..sib baik kitorg kuar awal..mau nyer ingat takut lah kut kalo apa2 kan...sbb 1st time...rupanya mlm tuh ade konsert Si Bieber mlm tuh..patutle jemmm melarat...but alhamdulillah we manage to smpai 20min early...sib baik...kitorg booking ticket bas sani executive ekspress...Ticket price oklah...for adult RM40/pax & kids RM30/pax...dah mmg lebih kurang rege flight tict time promo kan! Ekekek
Sampai kat hentian putra kitorg singgah minum dulu kat food court atas die...jgn high expectation ye..just a normal food court..yg bukak pun cume 2 kedai je..hihii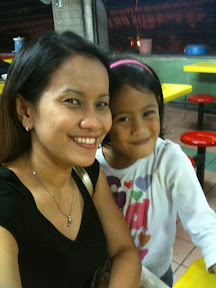 So minum sat, then bring the kiddos to pee dulu..then trus naik bas! Big sis x sempat apa pun..dpt seat bus jln trus slamat....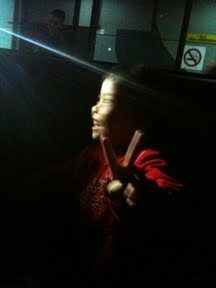 Tinggal si kenit nih yg mengomel2 x benti2... Mmg xcited abis lah die...siap jengah jengket kaki tgk luar tingkap..kekdahnya duk row executip blah bwh mmg tingkap die tinggi sket..so pyh nak nmpak full view..
Tp alhamdulillah perjalanan sgt smooth...driver bus pun sgt cermat...ai tido2 ayam le sbb takut kalo2 si anak2 trbangun ke xselesa ke kan...but alhamdulillah big sis tido sepanjang perjalanan...lil sis lps 1 hour later trus lena gak..
Halfway perjalanan diorg stop for rest/toilet camtuh la..so bleh le minum2 segelas 2 air panas! Tempat perhentian mmg x pasti..tp rasanya nih mmg private stop 4 sani ekspress..sbb sume pun bas sani je..so layanlah...sbb si kenit pun terbangun bila bas benti...while big sis still lena dibuai mimpi..so cnfirmlah selesa kan...aircond toksah ckp mmg sejukkkkkk!
Nak snap pict kekdahnya time nih around 2-3am...so mmg yg ado laa cahaya lampu minyak tanah..ekek so layan le gambo mak ngn si anak yg xtdo lg..hihii
Alhamdulillah Selamat sampai...sebelum subuh kitorg dah smpai ke Kuala Besut! It's really good experience for us sbb mmg 1st time naik bas ke area belah pantai timur! Nxt time bleh try lg!....hihii Syabas to SANI Ekspress!
- Posted using BlogPress from my iPad