Not that bad...room selesa, nih bilik kitorg amek yg ade aircond..so bkn betul2 dpn beach but still dekat ler..sbb yg dpn beach bebetul xde aircond..hihihi yg bilik nih ade 2 queen bed..lupa lah nak amek gambo bilik...but overall area bersih, org kampung pun baik2 belaka...
Jgk ade sourvenior shop here...so xyah jln jejauh...but this jd our kids punya kedai beli "jajan" le hari2.. Hahaha mmg heaven la for the kids...sbb bila duk pulau no rules apply...so mmg give them freedom!
Esp on day things to do laa bila duk pulau, kids enjoying themself main sands, mandi laut & lari sana sini area pulau....
Mmg puas le diorg bgn tido jerk makan then siap2 tuko wetsuit trus main...
Big sis plak mmg x abis2 berendam mandi laut..this time she's more excited...sbb dah verani sket nak floating sendiri....so i just monitor from tepian jer....sesambil mak die landing kat buai bwh pokok!
Lain xtvt haruslah makan,makan & makan....so bgn pg mkn...tengahari makan, petang lg...mlm dinner jgk...so antara food hidangan pilihan makan pagi...
Hidangan mkn tengahari...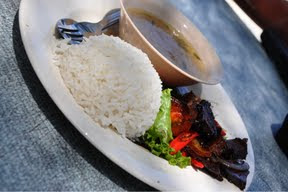 Menu minum petang....cer teka apa nih? But yummiehhhhh
& menu mkn malam...
Oh heaven nya mmg saya rasa....nak plak sepanjang disana cuaca adalah sgt2 nyaman...x hujan langsung! Alhamdulillah so laut pun x bergelombang...
Overall mmg we had so much fun there! Xcaya cer tengok rupa anak2 ai...mmg happy kemain...& nasiblah balik masing2 kulit jd "tanned"..hihi
Bkn anak je happy mak bpak dier pun happy sama lah...Mmg view sgt cantiklah...tp only few pict jerk bleh shared sini...ker nih pun dah melambaks kan....selebihnya "tutttttt" xbleh utk tatapan umum....hahah so layan laaa...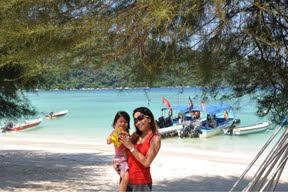 So sapa kata x best duk pulau? Cer citer cer citer? Mmg ketenangan tuh xkan dpt di tgh2 kota bandar esp KL..hihii so jommmmmmm..kitorg ingat kalo org lain sibuk nak migrate duk obersi...kitorg plak tingin sgt nak migrate sini ...vley? Hihii
-Posted using BlogPress from my iPad