Okeh pg2 lg lps aje bgn gi brkfst we ols gerak ke crocs farm...mmg kene gegas sbb dah tau schedule crocs feeding kul 10.30am....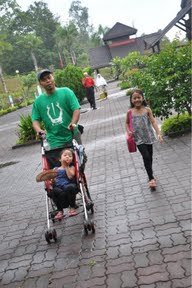 Lil sis & big sis mmg excited lor...jln pun kemain laju lg tinggalkan atuk & opah...hihii masuk sini pun ade entrance fee tau..so sorang kene RM15.. kids RM12 kalo x silap..so masa kitorg masuk mmg just nice time diorg bg mkn....ade yg feed direct ade jgk yg di ikat pd tali then the crocs akan melompat ler capai....huhuuhu
Like this 1 kan...bila staff die tiup wisel tuh...crocs yg ade mcm dah tau2 je kan...mmg siap sume menjulurkan kepala...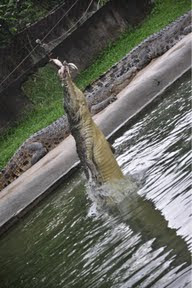 .so bila nmpak mknan skali dier lompat ngapppppp mmg berderauuuu ler darah...huhu cant imagine kalo yg umpan tuh manusia kan...hukhuk selisih laaa...
Yg nih nmpak....mmg staff bg direct into their mouth laa...lg ler seriau kan...sbb mmg crocs nih sdaya upaya menyusur panjangkan bdn die nak mkn....hahaha
Kat sini jgk ade spesies yg kira cam "cacat" diorg simpan....
Yg nih kalo kecik harus dah mcm cicak kan...sbb die mmg xde ekor yg panjang tuh....kira kemetot laa ade bdn & kaki jer...tp ingat ia masih buaya yg bila2 masa mmg mkn org! Wooopps
Yg nih plak jenis mulutnya melengkung ke atas...tp still crocs ye...
Sempat lg budak 2 org nih posing akt tepi pgr nih...si adik cam dah strt gerun tuh...bila kita kata nxt time kalo notti mama bg die tinggal kat sini...opssss mmg bila tgk crocs tuh mkn jer dgn sgala bunyi kunyahan tuh mmg ler seriauuuu darah....
then by 11.15am tuh ade show time....masa nih baru pasan ramai visitor yg ade...tp mostly pak arab ler....mmg diorg suke dtg tempat2 gini kan...
Nih rupa crocs yg bakal buat show....
Kasi close-up sket...besonya muluot die mmg bleh telan org dewasa ye....Nih antara crocs tertua & terbesau yg ade kat sini....tau berat die brp? Mungkin dlm pict nmpak kecit sket...tp berat die adlh = 1tan...fuhhh kalo nih kalo skali die ngapppp mmg x tinggal sisa lah... So sempat jgk rakam video utk show nih....tp salut lah ngn staff diorg bleh manage handle this bigger crocs....kalo sy bg sjuta pun lum tentu mau! Hahaha ibarat nyawa ujung tanduk uuuuu.....
oklah sbgai kenangan kita amik gambo kat sini jgk...spy ade bukti kita dah smpai kan adik kan! Hahah tertunai jgk le hajat lil sis nak gi crocs farm nih...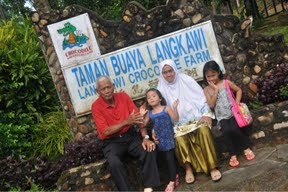 Nih kat photo area...ade diletakkan crocs buatan nih...Jugak ade salasilah crocs nih dr telur & parts in their body diletakkan kat sini...sini pun lama sbb melayan big sis yg explore 1 per 1 crocs body part..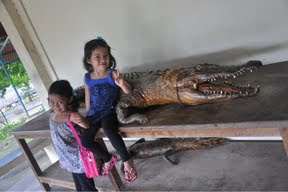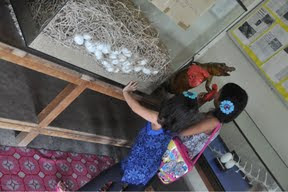 Kalo td possing kat dlm yang nih kita posing kat luar entrance lak....ai join this time..
Kat sini pun abis setengah hari sudah...mmg kat sini pun agak2 berejam ler jugak... Smpai ke tgh hari dahhh...Mmg puas hati!
And last yg pasti .......
Budak kenit nih puas hati.....smpaikan dah balik umah pun diulang2 tayang tgk video crocs show & photo album....;d
- Posted using BlogPress from my iPad