Okeh nih xtvt lps lunch hari ke-2,.. Kita ke oriental village..nih kita main entrance ler nak ke cable car gitu...so kat situ ade mcm2 kedai cenderahati..pastu ade jgk mcm2 xtvt lain bleh buat...so otw nak Ke entrance cable car tuh kota amek pluang ler pegang ular nih...kene bayo bergantung saiz ular..so bayo pegang bleh snap gambo sama...ai amik yg kecit je nih sbb seriau nak amik yg beso tuh..ekke jnji kita cuba ye dak?,,hihi si lil sis mmg part nih dier serender ler...geli katanya..haha so bila mik gmbo pun jauh pegi nyer..hahaha
Ai ok ler stakat nak pegang yg kecit nih...ok lah lg..so kasi can kita pgg & rasa feel kulit ular yg lembut itew!...
Nmpak si big sis pun memberanikan diri takat kuis2 ngn jari laa...masa nih lil sis jauh dah larinya..hahhaa so jomlah niat utama mai sini nak naik cable car...skali tup2 smpai nampak x?
Cer tgk cuaca yg mendung smacam + berkabus...jd secara autonya ianya ditutup..jdnya naik pun buat apa kalo stakat x bleh turun jln sekitarkan,..so esok je lah kita dtg skali lg...
Utk tidak menghampakan sbb dah smpai this area..jdnya kita lyn ler binatang lain...
Ade tempat leh feeding rabit & dear nih...so kita beli makanan then habiskan masa kasi mkn....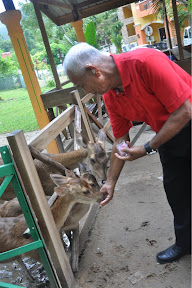 Atuk pun sama amik peluang..mmg dear nih mesra alam la...bkn dlm kandang jer..tp die bleh jgk keluar dr kandang tuh kalo nmpak kita pgg mkanan..hihii
So kids layanz...nih diorg cam takut2 actually...tp bila x smpat nak hulur lg ar sudah keluar kandang..jdnya nak xnak diorg trus hulur le bg..hahahah
Nih layan bg mkn rabbit plak...xbyk pun kat sini ade...tp oklah boleh lah buat bebudak nih happy kan..dlm takut2 geli tuh diorg layan le jgk...jadinya terubat ler sket sbb x dpt naik cable car td...
Then bila tgk masa byk lg jdnya kita jln ler..ke tempat sejarah plak...area beras terbakar..since we bring our parents kan..surelah diorg nih suke empat2 sejarah gini...so layankan lahhh...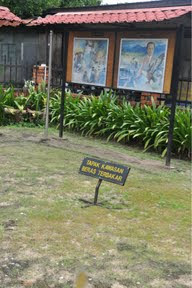 Posing amik gambo skeping dua sbb kat sini mmg xde apa..melainkan nak tgk tapak beras terbakar semata2.. Tp ade jgk org amik kesempatan mencari lalu menguis2 lah tanah kut kalo dpt sbiji 2 beras terbakar tuh kan...kalo untung nasib dapat laa....
Then we off to Kampung Mahsuri...kat sini pun puas ler...mmg tgk all historical part la...dr rumah kmpungnya, makam mahsuri sendiri, brg2 nyer...mcm2 lg lah...Ade small museum jgk kat dlm nih...tp mmg camera not allowed ler..so tgk je laaa...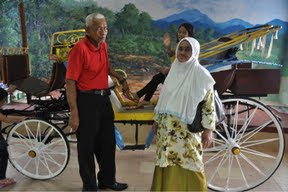 Nih lah makam mahsuri...siap ade signage batu so boleh ler Baca her story...alhamdlillah big sis can ad by her own...jd byk ler soklan2 nak kene jwb all the way kitorg jln tuh...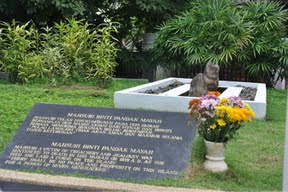 Ade perigi nih jgk..airnya x surelah "pure" lg ke x..tp mmg rata2 org mai sini sume amik "berkat" air nih samada basuh kaki,tgn,muke sume laaa....ade le jugak yg mai tuh citer asal usul perigi n airnya la bla la bla... xmoh caya cume xnak taksub sgt la...so kita layankan aje...hihii
Nih plak antara kelengkapan org dlu2 la..ade periuk belanga sume termasuk lah tempat menumbuk beras...betul ker ehh?
Kat sini ade jgk stage utk persembahan traditional..pastu ade jgk acara tarian mcm2 la yg diorg persembahkan utk hidupkan suasana kekampungan kat sini...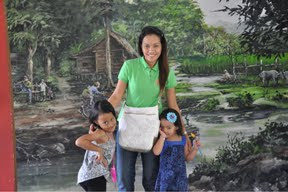 So byk jgk2 rumah2 jenis lama yg ditunjukkan kat sini..xsu lah nih mmg mah dulu dijaga rapi or diorg bina utk komersial value area nih...tp ok lah not so bad..mmg rasa ler suasana kekampungan kat sini...
So last dah penat pusing kampung mahsuri nih...kita bergambar di makamnya sblm kita keluar..kat sini pun masuk kene bayo yer u ols...kalo dlu dior kata makam nih msuk nak tgk foc jer..skang kene bayo RM5 seorg...oklah...puas jgk jln...kalo penat ade kedai minum kat dlm tuh yg boleh buat hilang dahaga sesambil memandang sawah padi yg terbentang luas...nyaman!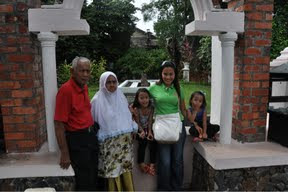 Oklah dah penat hai ke-2.. Kids pun dah x sabo nak balik hotel...tau apa agenda nyer? Tungguuuuuu nxt entry ya ols...hahahaaa
- Posted using BlogPress from my iPad